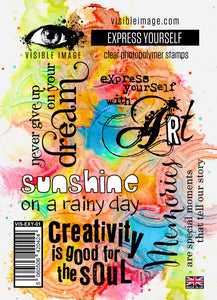 5 superb quotes for journaling, scrapbooking, mixed media and card making.
Measurements:
Express yourself with art – 5.5cm x 5cm
Never give up on your dream – 6cm x 3.5cm
Creativity is good for the soul – 5.5cm x 4cm
Memories are special moments that tell our story – 7cm x 4cm
Sunshine on a rainy day – 6.5cm x 2.5cm
Awesome clear photopolymer stamps, deeply etched for perfectly stamped images. Designed by us and made in the UK.