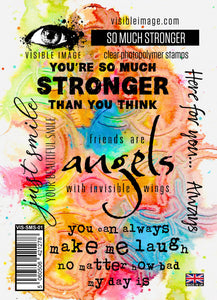 A fabulous set of inspiring and positive quote stamps that we all need in our lives, including 'you're so much stronger than you think '.
Measurements:
So much stronger 7.5cm x 2.75cm
Here for you 5.5cm x 1.5cm
Always 3cm x 1cm
Make me laugh 8cm x 3.75cm
Friends are angels 6.5cm x 6cm
Just smile 7.5cm x 2.5cm
Awesome clear photopolymer stamps, deeply etched for perfectly stamped images. Designed by us and made in the UK.