It's our 10 year Anniversary Celebration!
Thank you for your continued support of Inspiration Inn Bloom! We can't believe we are already celebrating 10 years of providing a premier place to enjoy your weekend get-away of pampering and relaxation. It is our pleasure to welcome you "home" and provide an environment to restore your soul, do what you love and refresh your body. We are looking forward to the next 10 years! Be sure to join us for a special celebration and a birthday present each weekend!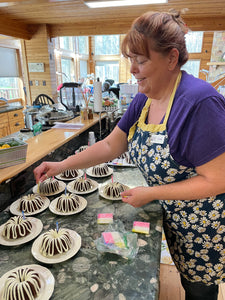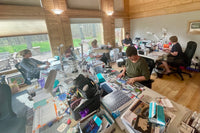 The perfect scrapbooking getaway!
Inspiration Inn Bloom is a beautiful, 7200 sq ft retreat located near Lake Erie. You can't ask for a more perfect setting for a relaxing weekend with friends – laughing and telling stories – all while preserving your most precious memories.
Take a virtual tour of The Inn
The Lodge
The Lodge at Inspiration Inn Bloom is a beautiful rustic lodge for your hosted or self hosted gatherings for up to 12 people. This is located on the 53 acre property and is a short walk from the the main retreat house. This popular place has become a favorite of our guests! Weekday availability can be found on the website booking service at the bottom of the list.
Stay at our state of the art, new Lindal Lodge with your family or friends weekdays or weekends. Enjoy a relaxing weekend or productive time with friends scrapbooking, crafting, playing games or getting spa services!
View Photos of The Lodge
Amenities
The Lodge features themed rooms, scrapbooking supplies, an outdoor pool with a spacious deck and much more. View our full list of amenities and supplies, and learn about adding spa services to your stay. 
Amenities
Frequent Retreater Club
Be a member of the Frequent Retreater Club! That's right, get rewarded for coming to Inspiration Inn Bloom! Your sixth stay is HALF off! When you stay five times at the regular Weekend Getaway price your next one is half off. And once you have redeemed your half off, start adding them up again.
Make a reservation
Gift Certificates
Your loved ones can purchase them online or call or text 419-250-1237 to purchase a gift certificate in any amount. Gift certificates can be put toward a weekend stay, spa services, or store purchases.
Gift certificates
Featured Scrapbooking Collections
First time I have ever done anything like this and it was wonderful! Everything was decorated just beautifully. Staff was extremely friendly and very welcoming. Love the pampering and the food was delicious! Enjoyed myself so much that I already booked for next year. Thank you so much for an extremely enjoyable girls weekend.

Brenda B.
Thank you again for another awesome stay! This place is absolutely gorgeous and scenic! I'll definitely be back. The staff is awesome, friendly, and so helpful.

Cynthia S.
Really there are not enough words to explain how AWESOME this place is.

Danielle W.
STUNNING place!! Very quiet! Peaceful. Will return next year!

Rick O.
Beautiful, relaxing, fabulous food. Looking forward to returning next year.

Denise O.
My second time here- just love it. I can tell you hand pick the people you want to work here, Abby. Bonnie, Deb and Jeanette...they are such lovely, kind women. Thank you for your vision and heart behind this "little piece of heaven."  You've got it going here. This crazy, full-time working mom LOVES it! See ya next time!

Becki