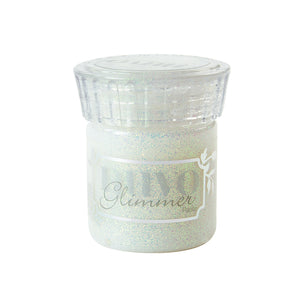 You won't believe all of the crafting technique options that you can have with the Moonstone Glimmer Paste from the Nuvo Collection by Tonic Studios. Glimmer paste can be used with a stencil to create a dimensional strip design or have some fun by adding some sparkle or texture to our project or just use it on its own, both techniques are amazing!
What's Included:
One 1.7 ounce jar of clear iridescent paste
Here's what you'll love about this Glimmer Paste! You can achieve two different finishes, a raised finish when you apply using a spatula or a smooth finish when you use a soft cloth! The paste works wonderfully with wood, acetate, fabric, glass, and so much more. 
The high concentration glitter will add some shine, shimmer, and sparkle to your cards, pages, tags, home decor, party favors, and so much more! You'll love the wide opening making it super easy to return any unused paste right back into the jar.