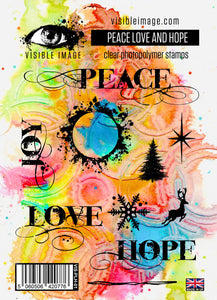 A grungy bauble with separate hanger, 4 fabulous accessory stamps to decorate your bauble, and 4 gorgeous words.
Measurements:
Grungy bauble 4.5cm x 4.5cm
Hanging string 5cm x 0.25cm
Reindeer 2.5cm x 1.75cm  Snowflake 2.5cm x 2.5cm  Tree 2.5cm x 1.75cm  Star 3cm x 1.75cm
Peace 11cm x 2.5cm  Love 5.5cm x 3cm  Hope 7cm x 2cm  Joy 4.5cm x 2.25cm
Gorgeous clear photopolymer stamps, deeply etched for perfectly stamped images. Designed by us and made in the UK.