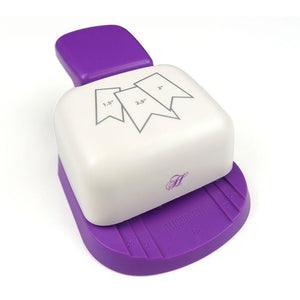 Premier Craft Tools - Banner Punch
This Banner Punch craft tool has been designed to help crafters ensure a professional, clean finish to their project. 
Able to cut three different sizes of tags; 1.5, 2 and 2.5 inches, this handy tool is a fantastic addition to your craft stash.  Easy and simple, it can be used for a huge variety of designs with its ability to easily punch out instant banner tags for beautiful designs.
Designed by crafters, for crafters, the Banner Punch has been designed with precision, with crafters' needs at the forefront of the design process.
Create fantastic gift tags with ease
Can cut three different sizes of tags - 1.5", 2" and 2.5"
Gives a professional, clean finish to projects