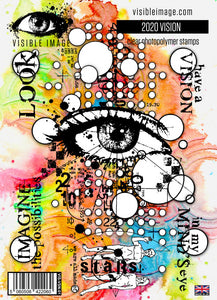 This is a great size stamp for your art journal and mixed media projects, and of course you can just use parts of it to create brilliant backgrounds.
Contains 5 clear photopolymer stamps
Measurements:
Large eye collage stamp 19cm x 11.5cm
In My Mind's Eye 5.75cm x 2.5cm
Look 4.75cm x 2cm
Have a Vision 4.5cm x 2.5cm
Imagine the Possibilities 6.5cm x 2.5cm
Gorgeous clear photopolymer stamps, deeply etched for perfectly stamped images.
Designed by ©Mark Alexander
Made in the UK.