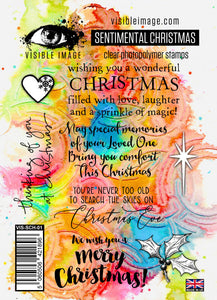 These beautiful Christmas sentiments will be loved by everyone who receives your handmade cards this Christmas. This set also includes thoughtful words as an alternative greeting for when 'Merry Christmas' just isn't appropriate.
Contains 8 clear photopolymer stamps.
Measurements:
Wishing you 6.25cm x 3cm
Christmas memories 6cm x 3.25cm
Search the skies 6.25cm x 2.5cm
We wish you a Merry Christmas 6.25cm x 3cm
Thinking of you 5.5cm x 2.5cm
Holly 4cm x 3cm
North star 3.5cm x 1.5cm
Snowflake heart 1.5cm x 1.75cm
Gorgeous clear photopolymer stamps, deeply etched for perfectly stamped images. Designed by us and made in the UK.